Technology Needs Assessment (TNA) activities are currently ongoing in the 22 countries participating in the TNA Phase III project. New TNA reports from Afghanistan, Benin, Djibouti and Fiji, prioritising key climate technologies for both mitigation and adaptation, are now online.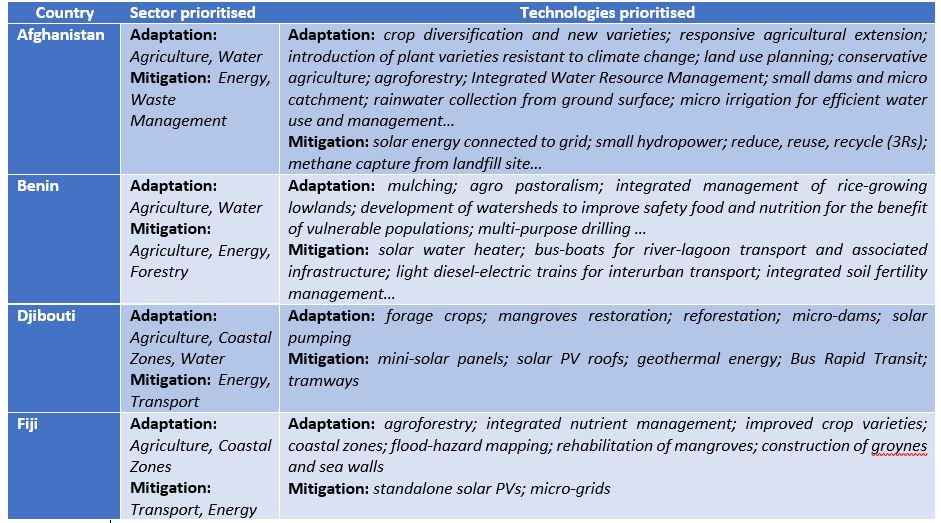 Fig. Overview of key sectors and technologies prioritised by Afghanistan, Benin, Djibouti and Fiji. Source: TNA reports
Reports' highlights
As countries make progress in preparing their TNAs, more information becomes available on how they have handled different aspects of the process. This includes linking the TNAs to NDCs, criteria used for technology comparison and selection, integration of gender issues, and how they go about stakeholder consultations.
Afghanistan emphasizes that climate change has bearings on the productivity and efficiency of climate-sensitive sectors such as agriculture and water. The reports underline that effective climate action must be supported by an integrated and crosscutting policy approach that integrates climate change into national development planning.
In Benin, extreme weather events are becoming more frequent, severely impacting the nutritional security of vulnerable populations. It is a key priority for Benin to adopt technologies than can reduce climate-change shocks in order to guarantee the availability and sustainability of agricultural production and thereby ensure food security. To this end, Benin identified "mulching" as a key priority: an agricultural practice that protects soil from erosion, reduces compaction from the impact of heavy rains, conserves moisture, maintains an even soil temperature, and prevents weed growth.
The needs of children, women and the elderly are among the key criteria for identifying and prioritising technologies for the transport sector in Djibouti. Many students in Djibouti live far from their school, and the availability of transport is sometimes limited, especially in rural areas. Furthermore, disabled  and elderly people may find it difficult to use the existing transport forms because of inadequate supply and accessibility.
Attention to gender issues is an integral part of countries' TNA work, and Fiji points out that the TNA contributes to the SDG 5 " Achieve gender equality and empower all women and girls ". Representatives of women's civil society are included in the technical working groups and the stakeholder consultations.
Where to find TNA reports
Navigate through the TNA database, to read these TNA reports, and consult over 300 reports from over 80 countries prepared as part of the TNA process.